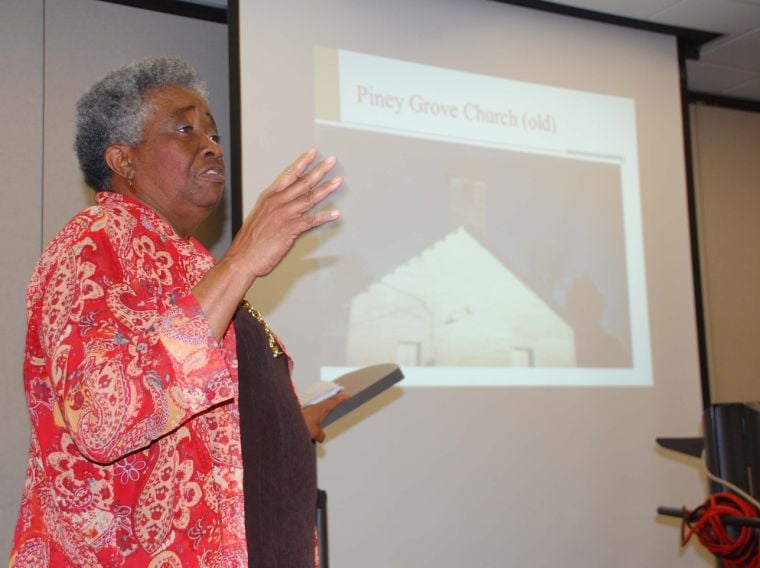 After the 13th Amendment to the United States Constitution abolished slavery in December of 1865, freed slaves were finally legally allowed to establish their own churches, lead their own worship services and learn how to read and write.
In Iredell County, that freedom was taken advantage of almost immediately. In 1866, two black churches, Freedom United Presbyterian Church and Logan Presbyterian Church, were started in Statesville. By 1874, there were at least 10 churches of the Presbyterian, Baptist and African Methodist Episcopal (AME) denominations in Iredell whose congregations were made up of former slaves. Many of the churches doubled as schools, attempting to teach a population that had been left uneducated on purpose.
"A lot of folks (today) take for granted that everybody has always had a chance for education and could always go to church," said Phyllis Bailey, a retired Mitchell Community College teacher who led a program on the history of black churches in the county at the Iredell County Public Library on Saturday. "They had to struggle to get the education. They had to struggle to get to church."
Bailey's presentation at the library kicked off the observance of Black History Month locally. The country began using February to celebrate African Americans beginning in 1926 with Negro History Week, which was held the second week of the month because it marked the birthdays of former President Abraham Lincoln and abolitionist Frederick Douglass. In 1976, it was officially changed to Black History Month, six years after students at Kent State University in Ohio had begun the practice.
"If we continue to find out what happened in the past, we could see where we could go in the future," said Mary Starks, one of about 15 people who attended the presentation on black churches.
The library is currently featuring a display of African-American military veterans from the county. There are several hundred pictures of those who served time in war.
Local history librarian Joel Reese said there are several programs, for both adults and children, being held this month at the library for Black History Month. Call 704-878-3090 for more information.
One of the most difficult things about preserving the history of African Americans, Bailey said, is the lack of information that is widely available. Pictures of about 50 black churches in Iredell were shown during Saturday's presentation, but many of their founding dates were unknown or in doubt. Bailey is looking for people in the community who are relatives of former slaves who would have attended the first churches, and may have information and names. She asked that anybody with information drop it off at the library with a notice that it is for her.
"One of the things I'm trying to do is compile our black history," Bailey said. "We're just trying to preserve and maintain our history."
Norma Millsaps spent several minutes after the program on churches looking at the pictures of war veterans that are displayed on the library's main floor. She felt that collecting more of the history of African Americans locally could build bonds between generations.
"The grandchildren and great-grandchildren, and nieces and nephews, they can look back and know our relatives," said Millsaps.
Bailey told the group during her presentation that before slaves were freed, many were forced to attend church in shackles with their masters because they were not trusted to be home alone.  
Progress has certainly been made since, Bailey said, and perhaps one day, churches will not be designated as black, even by their own members.  
"We all got one God, one church," Bailey said.