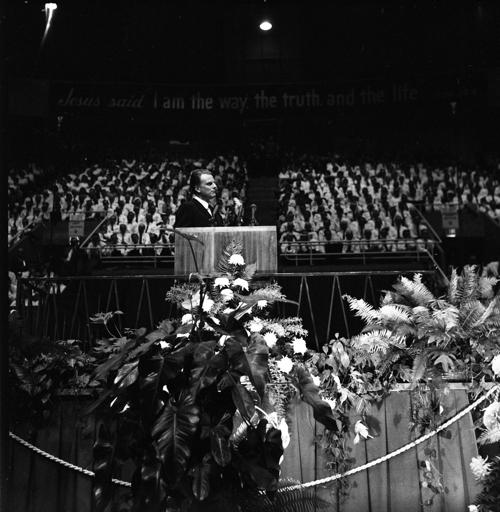 To generations he was a fiery and eloquent figure on your television set, speaking to tens of thousands in an arena or stadium in some far-flung outpost, inspiring awestruck attendees to journey down the aisles to the altar of redemption, salvation and love.
He was a voice on local radio, a column in your community newspaper, speaking to your soul and inspiring you to read the Bible and listen to the word of God as your beacon through life.
But to condense the evangelism of Rev. Billy Graham into one of those glimpses is to blur the power and glory of his work, his persuasiveness over people and the resonance of his voice in the hearts and souls of those who had not heard — or maybe understood — the Good News of Christianity.
Graham started as a tent revival preacher in the late 1940s after being called to that mission as a young adult. He wasn't particularly successful at first, but he was committed to what he believed was the calling Jesus gave all Christians in Matthew 29: 19-20:
"Go ye therefore, and teach all nations, baptizing them in the name of the Father, and of the Son, and of the Holy Ghost:  Teaching them to observe all things whatsoever I have commanded you … ."
The Apostle Paul is credited in the First Century of spreading the teachings of Jesus to all nations. Billy Graham, you could argue, was the one who baptized them with inspiration.
From Grand Rapids, Mich., and Charlotte in 1947 until New York in 2005, Billy Graham conducted 417 crusades in 185 countries, reaching an estimated 84 million people and untold millions more in the broadcasts of those sermons.
They were called crusades, and the images of him standing on a podium in the African plains, people stretched as far as the eye could see, are both iconic and illustrative of his power.
With his producer and marketer Cliff Barrows and the powerful baritone George Beverly Shea as his companions, he evangelized in Africa, the Americas, Europe, Southeast Asia, Taiwan, Korea and, after the fall of the Berlin Wall, in the Soviet Union.
Rev. Graham became through his relationships with presidents and other world leaders our national figure of prayer. Following the terrorist attack of Sept. 11, 2001, he led a prayer service in Washington. He was at the bedsides and elbows of some of our most powerful people.
His message evolved with the times, some suggested inadequately through the civil rights era, but the words remained so simple and straightforward as to be understood by anyone. He was an encourager for the discouraged, a moral compass for the lost, a magnet for those in search of a center based on love.
"It is the Holy Spirit's job to convict, God's job to judge, and my job to love." he once said.
In a world in which troubled young men go into schools and gun down innocents, when loud mouths spew hate and some assassinate for a flawed cause, preserving love for one another might be our last hope for preservation.
And now God's most resonant voice on earth has gone quiet.
Reprinted from the Greensboro News & Record.