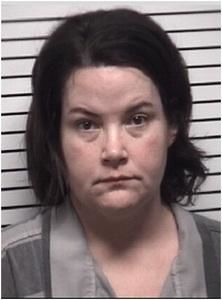 A former Iredell County middle school teacher, accused of having a sexual relationship with a teenage foster child in her care, is facing new charges.
Christina Davis Jolly, 43, was arrested Friday for violating pretrial release conditions and other charges, said Iredell County Sheriff Darren Campbell. A news release from the sheriff's office said that the conditions stemmed back to August 2018 when Jolly was arrested on statutory rape charges.
As the investigation into Jolly violating pretrial release conditions continued, more evidence was found, the release said. Detectives learned that Jolly, of Trophy Drive, had been giving the foster child money on a financial card for several months after her initial arrest, Campbell said.
On Feb. 7, Detective Patrick Dixson with the Special Victims Unit was informed of an incident involving the boy and Jolly, Campbell said in the release. He was told Jolly had driven past the boy several times as he walked home from school and made sure the boy saw her, Campbell said.
Detectives spoke with neighbors and obtained surveillance footage of vehicles matching Jolly's in the area, said Campbell. While searching for more evidence, Dixson was told March 20 that Jolly had spoken with the boy while traveling home from school, Campbell said.
The release said Jolly spoke with the boy for several minutes.
The boy and residents in the area were interviewed and a doorbell camera captured footage of him and Jolly's vehicle, the release stated.
Based on evidence, Jolly was arrested and charged with felony stalking, intimidating a state witness and charged for violating her pretrial release conditions.
She received a $200,000 secured bond for violation of the pretrial conditions and a $100,000 secured bond on the other charges.
Jolly has now been taken into custody three times for violations involving the same boy, Campbell stated.
The release noted that she was first arrested for violating her pretrial conditions on Dec. 27, 2018. The Record & Landmark previously reported that Jolly was accused of emailing the victim, a violation of a court order.
The Record & Landmark also previously reported that Jolly taught at North Iredell Middle School prior to her arrest. She was originally suspended with pay, but hasn't been an employee of the district since Aug. 21, a school spokesperson said.
The boy was not a student of Jolly's.