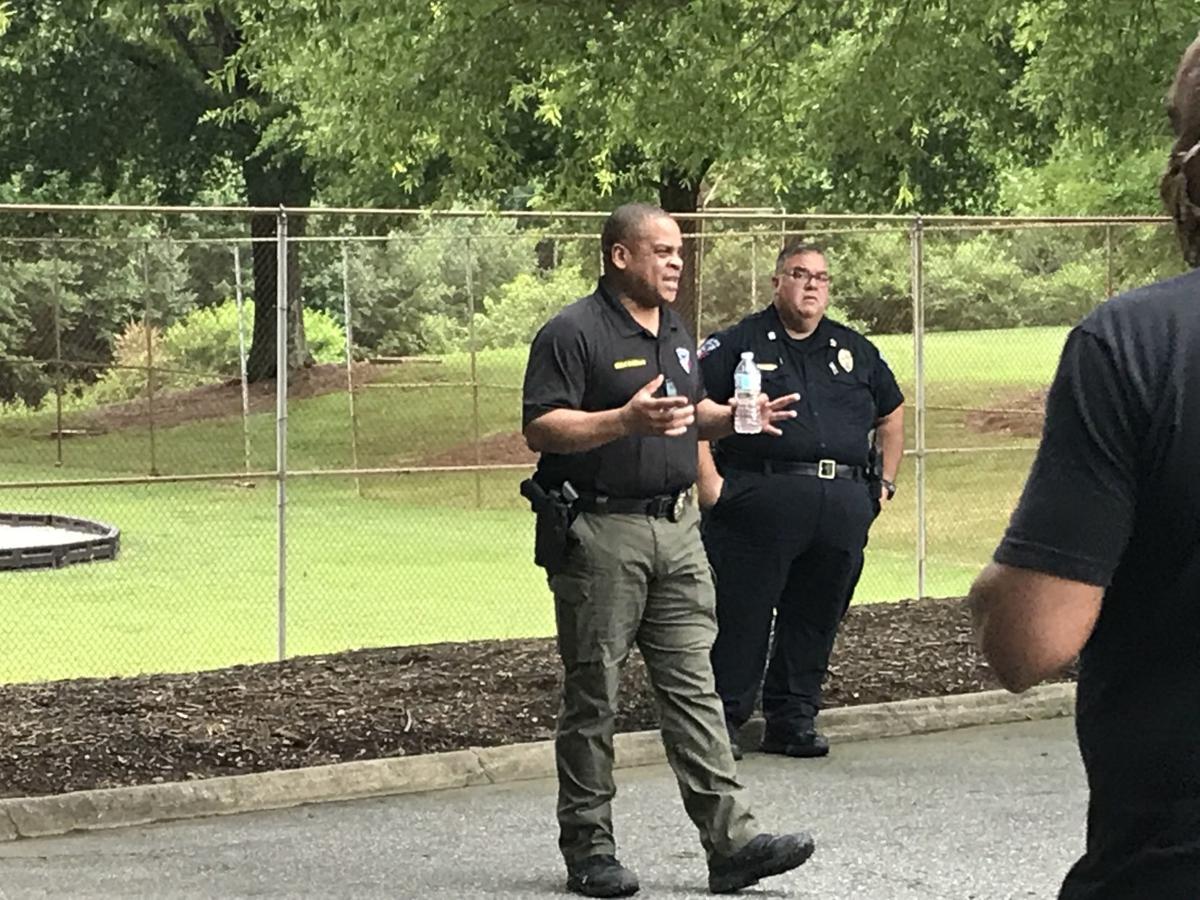 Police Chief David Addison withstood the rain and lightning as long as he could. Intent on hearing the community's questions, he and Capt. Mike Gentle stood in a parking lot at Harris Park on Saturday, listening to questions and comments from area residents who chose to come.
Addison hosts these meetings on every third Saturday of the month. But this one, in light of events across the country, perhaps took on added meaning.
That was clear in some of the questions, including one on whether his department can use chokeholds.
"We don't have chokeholds," he said. "That is prohibited. Let me explain that to you. When you're looking at telling people that no we're not doing that … One of the things that was unwritten that know for sure that we put in our policy just so it's in black and white is if you see someone using excessive force you stop them. You're just as culpable as the person doing it.
"We don't have that problem. Not saying that we can't have that problem. If that problem ever raises its head it's my job to address it and address it fast, but making sure that we're fair along the way."
Addison addressed a series of issues, talking about the lack of a Spanish line for those making emergency calls to the police department to how everyone standing in the lot could be a recruiter for his department.
The gathered crowd of about 20 people had all their questions answered until lightning literally crashed the gathering and sent everyone scurrying to their cars for safety. Addison, who started the community meetings more than a year ago, will take more questions in July.
He explained to the crowd why he felt these were important — and his approach to questions.
"If something goes up, we're going to address it. We instituted intelligence-based policing," he said. "We look at our numbers to determine (what to do) with our resources.
"Everything that we want to do is about a three- or four-year project … But we're better than we were 18 months ago. And we're going to be better in 18 months. But I need you to help me."
That help comes in a multitude of fashions, but one of them is in helping find new officers — and new people for the younger members of the community to look up to.
"Everybody in this parking lot is a recruiter," he said. "A recruiter for the City of Statesville, a recruiter for the police department, a recruiter for the fire department. We do these meetings … I give up the third Saturday of my month because this is important to me.
"You can't say that you didn't get a chance to ask me a question ... I'm going to answer good, bad or indifferent. When crime goes up I'm still going to report back to this crowd. We're not hiding. We're transparent about everything that we've done."
Glenn Usry, of Christian Outlook, also spoke during the meeting and closed it with a prayer as the rain picked up. He explained what these meetings mean.
"It means there is open communication with the police," he said after the meeting. "Right now in our country, people are not communicating with the police department … Our police officers are not bad. The more we talk to them, the better our community is going to be.
"So I appreciate the efforts of our Statesville Police Department to continually communicate monthly with everyone to make sure that this remains a wonderful place to live."
Addison concurred.
After the meeting, he offered his own philosophy on why he started them — and the value he finds in them for both his department and the community.
"They are very important and they should be going on prior to now," he said. "I started them last year … Just making sure we have the communication and venue for people to bring us issues and they don't all necessarily have to be police-related.
"We just have to make sure we're addressing all of those issues. We're going to continue these lines of communication and keep them open."
Be the first to know
Get local news delivered to your inbox!