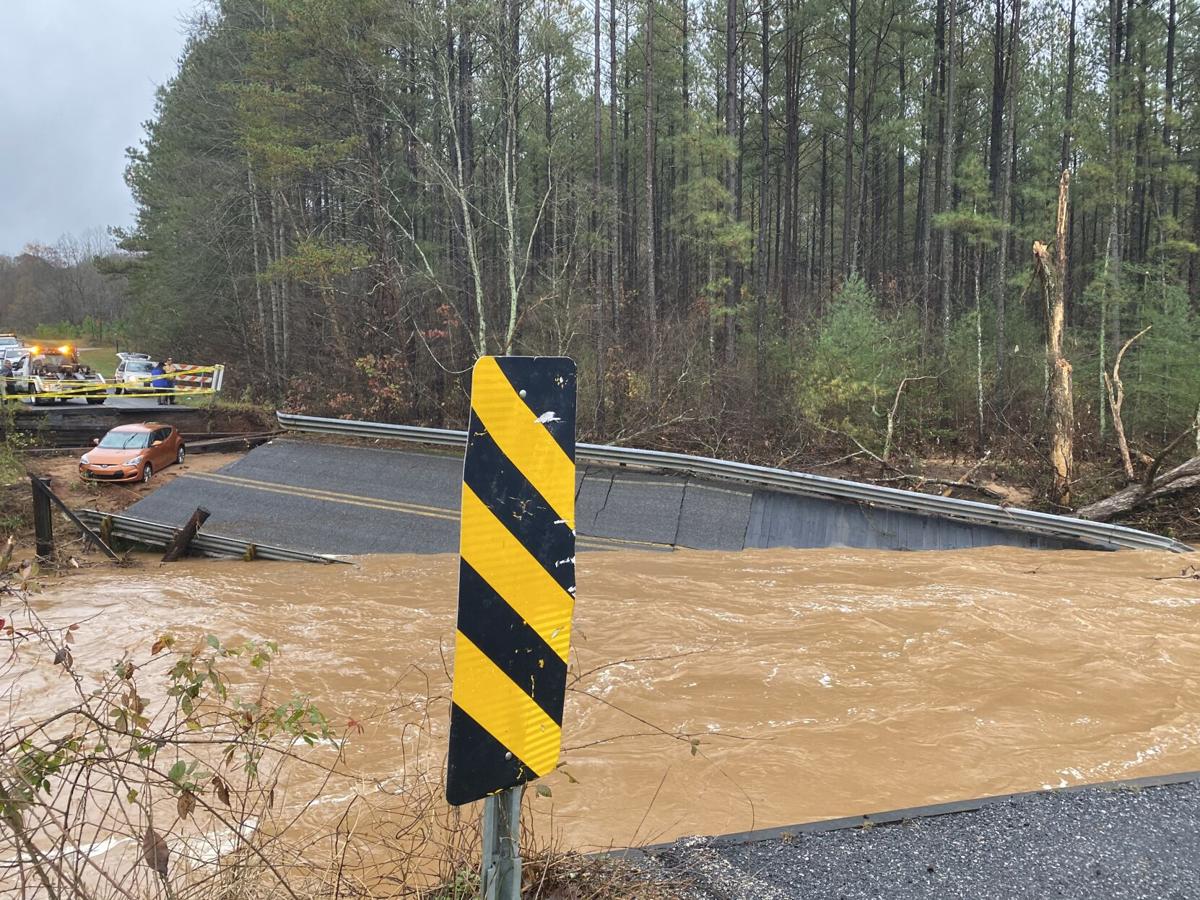 As crews of engineers continue their efforts to inspect the safety and integrity of roads and bridges affected by the flooding and heavy rains that inundated Iredell County on Nov. 12, county officials are beginning to piece together estimates for how much it will cost to repair the damage done.
In a report to the Iredell County Board of Commissioners on Nov. 17, Iredell County Director of Emergency Management Kent Greene spoke to the extent of the damages financially.
"We've got 13 homes that were damaged or destroyed with the initial estimates around $985,000 in property damages," Greene said. "As for business damages, we're at about $600,000, but that does not include River Valley Foods on Sheffield Road.
"The 13 roadways, which are mostly bridges and culverts that have been washed away — those repairs will be in the millions."
According to additional information from Greene, Iredell Water Corporation also sustained $420,000 in damage to their water system with damage estimates in the agricultural sector yet to be determined.
As of Friday afternoon at 2:30 p.m., all 13 of those roads remain closed according to the North Carolina Department of Transportation's traffic website, www.drivenc.gov. Those include Bassett Road, Mountain View Road, Branton Road, Hillsdale Road, Morgan Ford Road, Hunting Creek Road, Williamsburg Road, Tatum Road, Fox Bottoms Road, Race Path Road, Riverside Road and Coolbrook Road.
"Some (roads) are completely washed out," Greene said. "Some other bridges are intact, but can be washed out underneath. We are recommending that people don't move the barricades because we simply don't know the integrity of the soil."
This echoes what Central Fire Department Chief Jeff Styers said earlier in the week regarding drivers removing barricades from closed roads.
In regards to the ongoing damage assessment, NCDOT was unable to provide an update.
"After checking with the engineers, they are anticipating having estimates compiled early next week," NCDOT Communications Officer Marcus Thompson said. "There was a bit of a delay because they had to reassess the damage in some areas."
Because the county declared a state of emergency on the morning of Nov. 12, Iredell is eligible to apply for disaster relief aid from FEMA and other federal grants to help cover what will likely be a repair cost between $1 million and $5 million.
Iredell County is also asking residents to help in the recovery efforts by reporting any damage their home or business may have sustained during the storm. On the homepage of the county's website, under news and announcements, there is a link for residents to fill out a survey to help emergency management locate damaged property.
Be the first to know
Get local news delivered to your inbox!