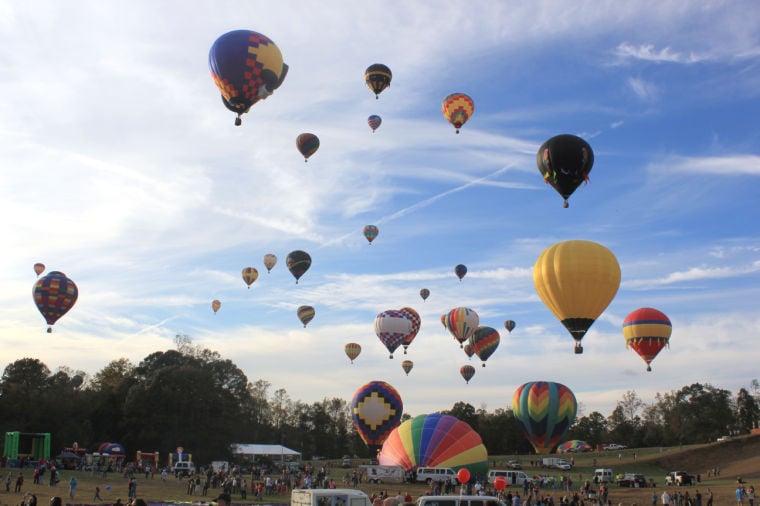 Calm winds and clear skies Friday made for a successful opening day of the 40th annual Carolina BalloonFest at Statesville Regional Airport.
More than 8,000 spectators – reclining in canvas lawn chairs and devouring chili-cheese fries – turned their heads skyward as about 40 balloons inflated with hot air and gently lifted passengers and pilots toward the heavens at the evening mass ascension.
Thanks to particularly gentle winds, the airborne balloons lingered in a tight, multi-leveled bunch over the festival grounds for almost an hour, offering ample time for attendees to capture the vibrant, colorful and transcendent memory on cameras and cellular phones.
Most balloons sported the traditional, bright and colorful checkered design, while others proudly promoted sponsors such as Relay For Life, Wells Fargo, Jasper Engines & Transmissions and Re/Max.
Six-year-old Abby Clark of Benson said she preferred the special-shape balloons, like the one with sunglasses and arms, Pepe Le Pew the skunk and, most of all, the Purple People Eater.
"I like to see the balloons when there's dozens of them in the air, and I like the ones with the smiley faces and the funny ones," she said. "I also like dancing to the live music."
Abby's mom, Erin Clark, said this was the third year she and her husband had taken their children to enjoy the sights and activities at the Carolina BalloonFest.
"We come every year and they love it. It's about the only time they'll actually sit still and just stare for a few minutes," Clark said. "We also enjoy the food and the Kids Zone."
In addition to the blessing of great weather, Executive Director Rob Collier said the first day of Carolina BalloonFest succeeded thanks to great volunteers and months of hard work and preparation.
"I think we've done a super job of getting the word out of what we have to offer, and people have shown up in droves, and we're excited," he said.
Expecting an even bigger crowd on Saturday, Collier advised people to arrive by 2 p.m. and to make use of the satellite parking at Iredell County Fairgrounds.
"We'll have the shuttles operating, which should help, but there's one way in and one way out, so the traffic will get backed up, especially later in the afternoon."