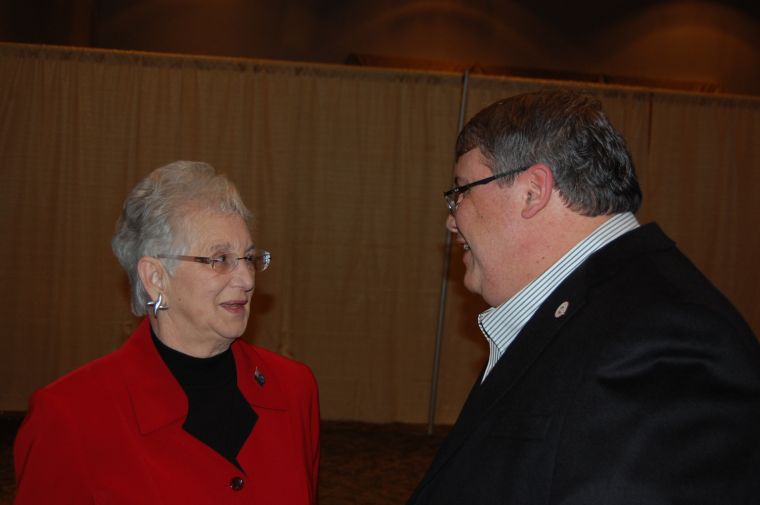 In a sort of preamble to his speech about how President Obama, some left wing politicians and the Environmental Protection Agency are conspiring to bankrupt the coal industry, Tom Borelli commented on how his spouse and his marriage represent things believed by liberals to fly in the face of the GOP ethos.
"According to the left, we shouldn't be here. They tell you the Republican Party is against women. They tell you we are against blacks. And they tell you the Republican Party would be outraged by interracial marriage. So according to them, we shouldn't be here," he said in alluding to the fact that his wife, political pundit Deneen Borelli, is African American and he is white. "But here we are."
Tom Borelli's remarks at the Iredell County Republican Party's Reagan Day Dinner Saturday night in Statesville otherwise dealt things like the evils of the EPA and the need to be a force against the president's push for renewable energy, as Borelli believes it will lead to the extinction of the coal industry.
"Your state, North Carolina, will be an early casualty in Obama's war against coal," he said and added that the president and Democrats in Congress were part of a "special interest orgy" whose concerns are with things other than the average American.
"Obama only cares about his radical agenda," Borelli said. "His energy policy is a war on poor people."
But it was Deneen Borelli who the 275 or so people in audience really came to hear and the EPA was only one of an armful of governmental organizations that she went after.
The NSA, TSA, DOJ, IRS and FCC were also among the agencies under fire. 
"I'd like to add my own three letters: NFW." she said to a crowd that was almost exclusively an ilk of Christian whose vocabulary does not include an abundance of vulgarities. "I'll keep it clean because tomorrow's Sunday: No Freaking Way."
Earlier Borelli explained that she grew up in a humble, blue-collar household in Burlington, N.J., (largely a suburb of Philadelphia) and that it was "only in America" where such a person could go on to have the success she has experienced -- including writing a best-selling book, appearing on several FOX News programs and pinch-hitting for Sean Hannity on his radio show.
"Nothing was handed to me," she said and used a trick she may have learned on FOX -- called informal fallacy -- of supplying aberrational anecdotes to illustrate larger points when she noted that success of talk show host Oprah Winfrey "proves that America is not a racist country."
Borelli's speech was replete with matters Republicans have been troubled with, such as the 2012 assault on the Benghazi, Libya, embassy compound, and the odd issue involving World War II veterans who were supposedly kept out of a memorial dedicated to them during last year's government shutdown.
At one point Borelli mixed four metaphors  --  involving the "waking up" of people to Obama's lies; having "the wind at our back;" the need to "drive a stake through the heart" of the problem at hand; and a call for "all hands on deck," which she repeated several times.
But her overarching messages were old and simple ones -- America is the land of opportunities; and independence, rather than dependence, illuminates the path to success.
Her presence at the event could also be viewed as an effort to make inroads into the local African American community.
Borelli made mention of that possibility herself. She said white Republicans are called "racist" by Democrats and "I'm called a sellout." She was one of around a dozen African Americans in attendance -- about 4 percent of the crowd -- and a full third of those guests were given scheduled podium time.
One African American speaker was Earl Philip, the North Carolina GOP African American director, who said his job is to literally go "into neighborhoods and other places that we don't normally go."
Philip said that when he has the opportunity to talk to black potential voters, he finds they are receptive to the idea the idea that there is a lot of common ground between typical African Americans and the Republican Party.
"Faith in God, strong families and equal opportunity for all are things they believe in," he said. "And the issues that are important to them -- jobs, small business, health care, education -- the Republican Party is the best to tackle this problems."
Philip then went on to sell the GOP's message that the party was literally founded to end -- or at least thwart the progression of -- slavery, which it did. He also gives Republicans their due credit for getting the Thirteenth, Fourteenth and Fifteenth Amendments to the Constitution ratified.
While he was at it, Philip credited Republicans for every major social advancement in the history of the nation, including women's suffrage and civil rights.
And while Philip was correct in most respects in describing political parties, he was wrong in the implied assignation of political philosophies. By their very nature, social changes -- particularly broad stroke changes like the ending of slavery -- are progressive acts, the kind with which today's GOP does not align. Republicans Abraham Lincoln and Teddy Roosevelt, for example, are considered among the most liberal presidents in U.S. history.
GOP officials realize there has become a struggle among some party members to distinguish which aspect of their affiliation is more important: being a Tea Party-type conservative or being a Republican?
U.S. Rep. Virginia Foxx took time in her talk Saturday to address this matter.
"There is no division in the Republican Party," said Foxx, whose 5th District includes much of Statesville and Iredell County. "I consider myself a member of the TEA party, and we are all members of the TEA party, Taxed Enough Already. And we cannot lose sight of who the enemy is: the enemy is the Democrats."
Ninth District Rep. Robert Pittenger also spoke at the dinner before heading to a similar event in Union County.
Foxx and Pittenger were also two of 34 candidates on the ballot this election year to attend the Reagan Day Dinner, which, according to Iredell GOP Chairwoman Rhonda Waugh, was the most successful one -- in terms of dollars raised -- in the county party's history.