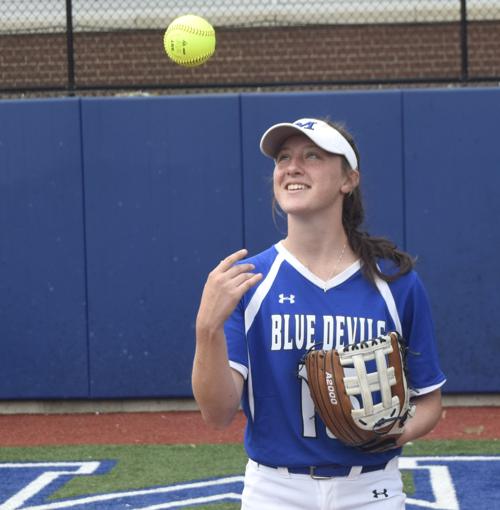 MOORESVILLE—There are good debuts and then there are those that turn heads.
Freshman Ellie Goins' introductory performance as a member of the Mooresville softball team offered that "WOW!" factor.
In the Feb. 27 season opener at home against East Lincoln, Goins batted 3 for 3 with a double and not one, but two solo home runs. The second fence-clearing hit was the walk-off variety and lifted the Blue Devils to a 2-1 victory.
"Right then and there I knew how special she was going to be," Mooresville coach Paul Kikta said. "She was very impressive from day one."
It was a season to remember for Goins and the Blue Devils, who won 27 games and came tantalizingly close to advancing to the 4A state championship series.
Batting cleanup, Goins led the Blue Devils in average (.493), RBIs (35), home runs (10) and slugging percentage (1.141). Her on-base percentage (.640) ranked second on the team among those with at least 30 at-bats.
Numbers like that—from a rookie or not—made her the obvious choice for R&L County Softball Player of the Year.
"At the beginning of the season I set goals for myself and they're something I worked for," Goins said. "Let God take the way throughout the season and see what he had planned."
An outfielder during travel ball season, Goins "stepped up for us to play shortstop, a very key position," Kikta said.
Goins belted a two-run homer in the April 9 victory over Lake Norman, which moved the Blue Devils into first place in the I-Meck Conference standings. They went on win the league championship outright and the I-Meck tournament title, too.
In the state playoffs, Mooresville advanced to its third straight 4A quarterfinals and this time got over the hump. Goins smacked a solo home run and finished with two RBIs as the Blue Devils beat Hickory Ridge 9-3.
South Caldwell played the percentages during the 4A West region finals, intentionally walking Goins on three occasions.
"That shows respect," Goins said, "but obviously I'd rather get some hits, maybe some for extra bases, to give us a better chance to score more runs."
In addition to the purposeful free passes, Goins was 5 for 8 at the plate with a triple and two RBIs in the best-of-3 series against the Spartans. The Blue Devils won the opener 10-1. They lost the second game 6-3 in Hudson.
South Caldwell's solo home run in the top of the ninth allowed it to win the decisive third game 1-0. The Spartans advanced to the 4A state championship series in Raleigh.
So close.
Adding insult to injury: South Caldwell went on to win the state title.
Despite a disappointing ending, it was a record-breaking campaign for the Blue Devils. They finished 27-5. It was the most wins in program history and came during a season in which they made their deepest playoff run.
Goins won't dwell on what might have been. She said their accomplishments are something to be proud of. That and the cultivated relationships with her teammates and "their support through the ups and downs," is how she will remember the season.
All-County Softball Team
Pitchers: Kali Morton, Mooresville; Linda Moore, Lake Norman
Catcher: Jentri Meadows, Mooresville
First base: Caitlin Mann, Mooresville
Second base: Hailey Lane, Mooresville
Shortstop: Ellie Goins, Mooresville
Third base: Reagin Luby, Pine Lake Prep
Outfielders: Elly Huecker, Lake Norman; Mariah Pearson, Mooresville; Sarah Sweitzer, Pine Lake Prep;
Utility: Samantha Ladowski, Lake Norman
Honorable mention: Cassidy Amon, Mooresville; Graycie Bustle, South Iredell; Kaylee Duncan, West Iredell; Maddie Dyson, West Iredell; Kelby Goodrum, South Iredell; Imara Harrell, Mooresville; Olivia Marshall, Mooresville; Macy Martin, Mooresville; Gracyn Millsaps, West Iredell
Be the first to know
Get local news delivered to your inbox!