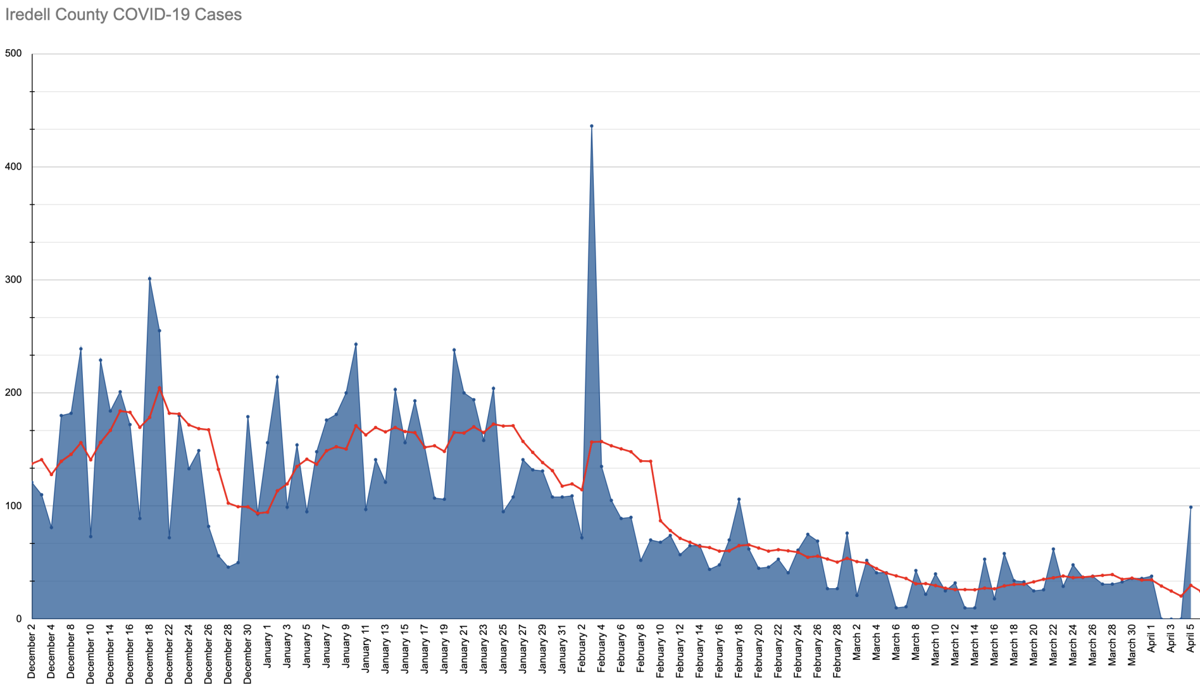 The North Carolina Department of Health and Human Services reported 17,588 COVID-19 cases in Iredell County on Monday, an increase of 99 coronavirus cases since last Thursday.
Iredell County reported no additional deaths due to COVID-19 on Monday, keeping the death toll at 210.
There was no report over the holiday weekend, resulting in Monday's report being the highest single-day total since Feb. 18.
The NCDHHS reported a statewide increase of 1,054 coronavirus cases on Monday afternoon. In total, 922,560 cases have been reported in North Carolina.
The number of people hospitalized statewide is 907. Statewide hospitalizations have been steadily decreasing over the last two months, falling from a peak of 3,992 on Jan. 13. The total number of completed tests is 11,509,107.
There have been 12,173 deaths statewide attributed to the pandemic.
In Iredell County, there are 11 people hospitalized with coronavirus. This number has decreased significantly since early January when the number reached its peak of 77.
The NCDHHS also reported a daily test positivity rate of 6.0 percent on Monday. According to the NCDHHS, Iredell County has a positivity rate of 7.0 percent.
According to the NCDHHS, of the major zip codes in Iredell County, 28117 has had the most confirmed cases with 4,283 infected. Next is 28625 with 3,688, 28677 with 3,617, and 28115 with 3,625.
Among neighboring counties, Mecklenburg has 103,967 cases with 910 deaths, Rowan has 15,832 cases with 297 deaths, Cabarrus has 20,038 cases with 242 deaths, Catawba has 18,348 cases with 294 deaths, Wilkes has 6,338 cases with 105 deaths and Yadkin has 3,811 cases with 47 deaths.
Lincoln County has 9,371 cases and 80 deaths, Davie has 3,836 with 36 deaths and Alexander has 4,185 cases with 82 deaths.
On March 19, the NCDHHS updated their "COVID-19 County Alert System" map that assigns a county one of three colors (yellow, orange, and red) based on their current rate of infection.
Iredell County was downgraded to Yellow, the lowest ranking, for the first time since the creation of the County Alert System. According to their charts, the county has reported just a 6.1 percent positivity rate over the last 14 days.