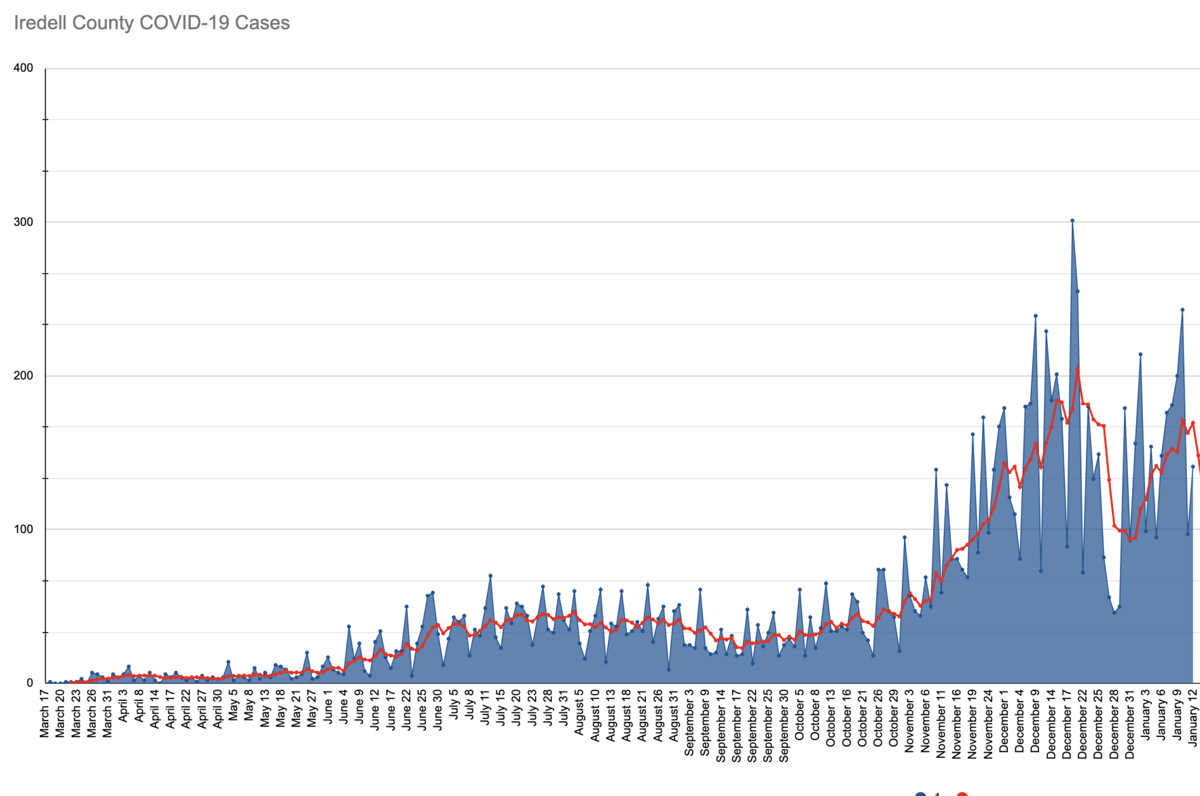 The North Carolina Department of Health and Human Services reported 11,273 COVID-19 cases in Iredell County on Tuesday, an increase of 141 coronavirus cases since Monday.
Iredell County reported no additional deaths due to COVID-19 on Tuesday, keeping the death toll at 133.
For the second time in the last four days, Iredell County reported a coronavirus test positivity rate of more than 20 percent at 20.1. The positivity rate has been greater than 18 percent since Jan. 4.
With 1,904 new cases already reported this month in Iredell County, January now ranks as the second worst month of the pandemic, trailing only December. However, at the current pace, that record will be broken on or near Jan. 22.
The NCDHHS reported a statewide increase of 6,851 coronavirus cases on Tuesday afternoon. In total, 635,975 cases have been reported in North Carolina.
The number of people hospitalized statewide is 3,940. The total number of completed tests is 7,669,546.
In Iredell County, there are 64 people hospitalized with coronavirus, a noticeable decrease from what was reported on Monday.
The NCDHHS also reported a daily test positivity rate of 14.7 percent on Tuesday. According to the NCDHHS, Iredell County has a positivity rate of 20.1 percent.
There have been 7,638 deaths statewide attributed to the pandemic.
According to the NCDHHS, of the major zip codes in Iredell County, 28117 has had the most confirmed cases with 2,607 infected. Next is 28625 with 2,473, 28677 with 2,410, and 28115 with 2,273.
Among neighboring counties, Mecklenburg has 72,968 cases with 635 deaths, Rowan has 10,859 cases with 192 deaths, Cabarrus has 13,444 cases with 164 deaths, Catawba has 13,056 cases with 197 deaths, Wilkes has 4,568 cases with 80 deaths and Yadkin has 2,838 cases with 28 deaths.
Lincoln County has 6,510 cases and 40 deaths, Davie has 2,524 with 14 deaths and Alexander has 3,094 cases with 38 deaths.
On Jan. 6, the NCDHHS updated their "COVID-19 County Alert System" map that assigns a county one of three colors (yellow, orange, and red) based on their current rate of infection.
Iredell remained the red designation in both the community spread and hospital impact categories. With the new update, the state designated 84 of the 100 counties in North Carolina as red counties.