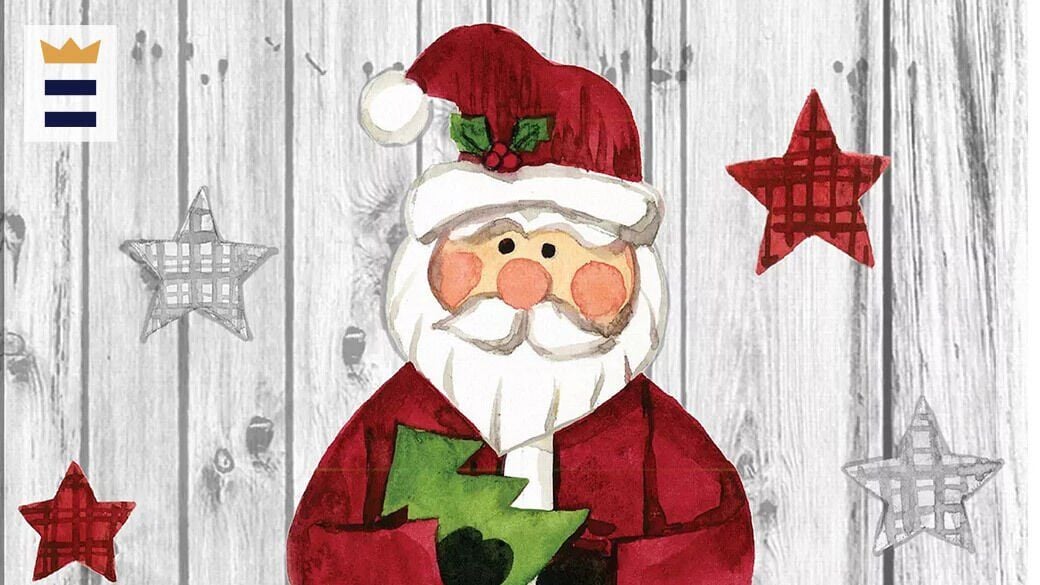 Santa Claus is one of the most beloved figures of the Christmas season. In fact, it would be fair to say that the entire holiday revolves around Jolly Old Saint Nicholas. The character was inspired by a real-life man who left small gifts in needy children's stockings. St. Nicholas might have lived many centuries ago, but his legendary beneficence has preceded him and evolved into legend.  
The Fine Art Canvas Jolly Santa Christmas Canvas Wall Art captures Santa Claus at his merry best. In the vintage-inspired painting, Santa wears his traditional red-and-white garb, with a jingle bell at the end of his stocking cap. Santa Claus is mid-laugh and his joy is evident. 
What to know before you buy a Santa Claus painting
Abstract vs. literal style 
You'll find more Santa Claus paintings with a literal style on the market. People enjoy the cheerful, comforting tableaus they depict. The designs of these pieces are overt and the subject matter is immediately evident. 
However, Christmas decorations aren't created in playful, heavily themed designs. Some have an abstract style. You might be surprised to learn that despite its modern aesthetic, abstract art made its debut in the early 1900s. An abstract Santa Claus painting tells its story through forms, shapes and colors that don't conform to societal standards. These elements convey the idea of the piece, but in a way that's open to interpretation. 
The wide array of abstract forms include the following:
Hard edge painting
Color field painting
Action painting
Op art
Post-Painterly Abstraction
Neo-plasticism
Suprematism
Cubalism
Constructivism
Orphism
Expressionism 

Santa's story
The story of a Santa Claus painting refers to what it depicts. Certain stories are more associated with Santa than others, especially in literal designs. Santa in his sleigh, at his workshop, with his elves, with his reindeer, with Mrs. Claus, delivering gifts, sliding down the chimney and eating cookies and milk are among the most popular stories. 
Decor scheme coordination
Despite its temporary nature, a Santa Claus painting is still part of your decor scheme. And as such, coordinating it with the rest of your decorations and furniture is imperative. Doing so will create a seamless, polished look that flows beautifully. Consider every piece when choosing a painting, including curtains and other window dressings, other wall art, the fireplace screen —  if you have one, tabletop decorations, indoor wreaths, the Christmas tree, armchairs, recliners, accent chairs, loveseats, couches, accent tables, end tables, rugs and throw pillows. 
Santa Claus painting features
Frame vs. frameless
Canvases that are hand wrapped offer a nice way to avoid framing your Santa Claus painting. They give the piece a finished look even without a frame. On the other hand, you might prefer the aesthetic of a frame, which is fine. It's a personal choice. 
Dimensions
You should measure the space where you plan to hang the Santa Claus painting before you begin shopping for one. Doing so is essential because the piece must be the right size for the space to achieve a balanced decor scheme. Make sure the painting is neither too small or too large. Otherwise, it could make the space around it look bare or cluttered. 
Medium 
The terminology associated with paintings can seem mysterious, but this doesn't have to be the case. "Medium" is just a fancy way to specify the types of materials used in the creation of the Santa Claus painting. Commonly used mediums include prints, ink, pencil, gouache, oils, watercolors and acrylics. 
Santa Claus painting cost 
Santa Claus paintings tend to cost more than other Christmas decorations, especially those that are done well. A price range of $35-$100 is perfectly reasonable for these pieces. And as long as you take care of your painting, your investment will pay dividends. 
Santa Claus painting FAQ
What's the best way to hang a Santa Claus painting?
A. Self-adhesive hooks are the ideal solution for hanging any painting. They're designed not to damage the paint on your walls. You won't have to worry about getting stuck with bare patches on your walls when the holiday season is over. Self-adhesive hooks won't leave holes either, which is particularly beneficial for renters. 
How long can you display a Santa Claus painting?
A. If you want to enjoy your Santa Claus painting for as long as possible, take a cue from retailers. Many have now started placing Christmas decor on shelves before Halloween. There's no reason why you can't break yours out just as early. It's your home and, therefore, your prerogative. What other people think about the timing is irrelevant. 
Which Santa Claus painting should I get?
Best of the best Santa Claus painting
Fine Art Canvas Jolly Santa Christmas Canvas Wall Art: available at Kohl's
Our take: Inspired by the Christmases of long ago, this painting depicts a retro-style Santa in a decidedly jolly mood. 
What we like: Santa Claus is holding his belly that shakes "like a bowl full of jelly" and laughing with holiday merriment, as depicted by this vintage-inspired painting. He wears the classic red, fur-trimmed Santa suit. A wide black belt with a gold buckle featuring a Christmas tree silhouette encircles his waist. 
What we dislike: The vintage style of the painting won't fit into certain decor schemes like modern and tropical. 
Best bang for your buck Santa Claus painting
Panther Print Letter To Santa Claus 30-Inch by 20-Inch Canvas Print: available at Amazon
Our take: This painting features Santa Claus taking time to enjoy the treats awaiting him at one home. 
What we like: In this depiction, Santa Claus sits with a toy train in front of the cookies, milk and handwritten letter left for him. Archival-grade materials contribute to the fine quality of this piece. It's made of deep kiln-dried pine frames and utilizes genuine HP-resistant pigment inks, which produce rich hues. 
What we dislike: The width of the canvas posed a problem for one buyer, who felt it was too thin. 
Honorable mention Santa Claus painting 
Fine Art Canvas Country Folk Santa Elena Vladykina Canvas Wall Art: available at Kohl's
Our take: This cheerful painting is perfect for a farmhouse or country-style decor scheme, thanks to its rustic look. 
What we like: Warm, muted colors in seasonal hues give this piece a welcoming and cozy feel. The painting features Santa Claus holding a miniature Christmas tree in his hands. He's surrounded by red and white stars, along with two other Christmas trees. A single bunch of hollies accents Santa's iconic stocking cap. 
What we dislike: 16 inches high x 16 inches diameter x 1 ½ inches wide, this painting is on the small side. 
Megan Oster is a writer for BestReviews. BestReviews is a product review company with a singular mission: to help simplify your purchasing decisions and save you time and money.