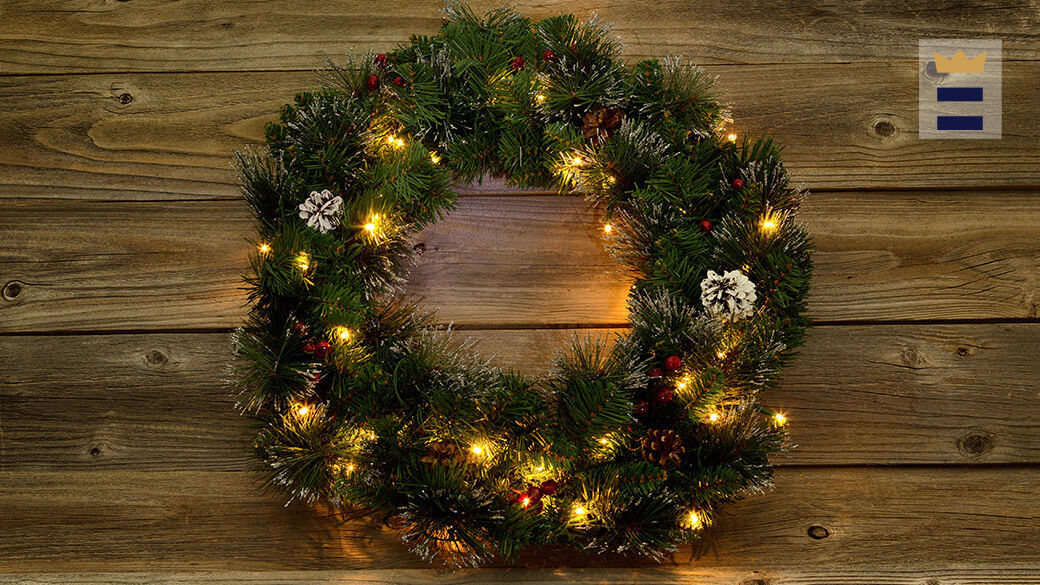 When it comes to seasonal decor, Christmas wreaths are one of the classic must-have items. Lighted Christmas wreaths create an ambience that's cozy, warm and welcoming. Most wreaths are sold pre-lit, so you don't have to fuss with the lights — you can simply hang the wreath and start enjoying it. From minimalist to over-the-top, Christmas wreaths are so in demand, you can find a style that suits your personal taste and decor scheme. 
What to know before you buy a lighted Christmas wreath
Indoor vs. outdoor use 
There's a good reason why you'll often see notes about Christmas wreaths that specify indoor or outdoor use. Outdoor wreaths must have certain characteristics that make them largely immune to natural elements. They should be constructed of durable materials, water-resistant and fade-resistant. 
Sturdy construction is important not only due to weather conditions but also due to wild animals and pets, as well. If birds decide to perch on the foliage of a wreath, for example, it should be secure enough to hold their weight without pulling away from the base. 
Sunlight can do a number on a wreath, causing it to fade over time. Rain and snow can cause mold, mildew and fungus to grow on a wreath. This is why it's critical for any wreath hung outside to be treated with water-resistant and fade-resistant finishes. 
The foliage you favor 
While most Christmas wreaths consist of a base of real or artificial pine boughs, many also feature other types of foliage. The options are virtually unlimited, but popular choices include eucalyptus leaves, flowers, poinsettia, mistletoe, ivy leaves and grass. 
Keep spare batteries in stock 
Christmas leaves that utilize battery-powered lights are becoming increasingly popular. Lights powered by batteries significantly reduce the risk of a fire, by eliminating the power cord. Like anything, these lights have their drawbacks. You'll need to keep spare batteries on hand, especially if you leave the wreath lit for long periods of time. And most companies don't include batteries with the wreath, so you'll have to buy them separately. Most lighted Christmas wreaths take AA batteries or AAA batteries. 
Lighted Christmas wreath features
Light color 
Much like lights meant to string on your Christmas tree or home, those on lighted Christmas wreaths are available in multi-colored or clear varieties. Some even have the technology to change from colors to clear and back again. Think about the aesthetic you desire from your wreath. Multi-colored lights have a more playful and vintage look, while white lights are elegant. 
Size  
You should always take the dimensions of a Christmas wreath into account before committing to it. It shouldn't look too large or too small for the place where you plan to hang it. It's a good idea to hold the wreath up against the area before disposing of the receipt. 
Design details 
Some Christmas wreaths are simple in design, while others are intricate. Pared-down wreaths typically consist of greenery and lights, with no additional adornments. Intricate wreaths feature any number of additional decor pieces that might include acorns, pine cones, berries, bows and ribbons. They might also be embellished with flocking to create the effect of snow or glitter to add sparkle. 
Lighted Christmas wreath cost 
Lighted Christmas wreaths tend to cost slightly more than their unlit counterparts, starting at around $40 and topping out around $350. 
Lighted Christmas wreath FAQ
How do you safely operate a lighted Christmas wreath?
A. You might be wary of the fire hazard that hot lights against greenery can create. The good news is, today's Christmas wreaths are designed with safety functions that help minimize the fire risk. These features include a timer function you can set to turn off the lights at a certain time of the day or after a specified number of hours, even if you're asleep or not home. This function allows you to safely enjoy the glow of the lights on your wreath. 
How do you store a lighted Christmas wreath? 
A. The lights on these Christmas wreaths present an additional storage challenge over unlit wreaths. Be careful to avoid situating the wreath in a way that'll strain the lights or pull them away from the base. Place the wreath gently in the container — ideally, a container specifically designed to store wreaths. Some Christmas wreaths are sold in a sturdy box that's ideal for this purpose. Press gently on the pine boughs to flatten them a bit. You should never crush them, though. 
Which lighted Christmas wreath should I get?
Best of the best lighted Christmas wreath
Pre-Lit Wintry Artificial Pinecone, Berry and Snowflake Pine Wreath: available at Kohl's
Our take: This festive wreath features a trio of beloved holiday symbols for a look that'll stir up Christmas spirit.  
What we like: Pinecones and red berries, both seasonal favorites, adorn this artificial wreath. Flocking details on the pine boughs further enhance the wintry effect. Green leaves soften the look of the pine to create a sense of harmony. This wreath is pre-lit with 50 clear lights. 
What we dislike: At least one buyer reported inconsistent quality between the two wreaths they ordered, sharing that one was well-made and the other was poorly made. 
Best bang for your buck lighted Christmas wreath
National Tree Company Pre-lit Artificial Spruce Christmas Wreath: available at Amazon
Our take: If you prefer a lighted Christmas wreath that's elegantly simple in design, this one fits the bill.
What we like: Composed of 180 individually crafted artificial North Valley lifelike spruce branch tips, this wreath has a realistic aesthetic. The needle tips are fire-resistant, and it also features impressive 900 LED lights that offer white and multi-color options. You can choose from 10 different light functions. 
What we dislike: The functionality of the timer was the main point of contention among a handful of buyers, who reported that it only worked on some settings. 
Honorable mention lighted Christmas wreath 
Pre-Lit Artificial Decorative Collection Cozy Christmas Wreath: available at Kohl's
Our take: Adults and children alike will derive a sense of Christmas cheer from this wreath, which features gold and red ornaments. 
What we like: Pre-lit with 100 red and clear lights, this wreath emits a warm and cozy glow. Shining gold and red ornaments adorn the wreath. Multiple glittering red bows accentuate the fun and festive look. Red berries float around the outer perimeter of the wreath like a halo. 
What we dislike: This wreath has an over-the-top design that might appeal to people who prefer something simpler.
Megan Oster is a writer for BestReviews. BestReviews is a product review company with a singular mission: to help simplify your purchasing decisions and save you time and money.
BestReviews spends thousands of hours researching, analyzing and testing products to recommend the best picks for most consumers. BestReviews and its newspaper partners may earn a commission if you purchase a product through one of our links.
Distributed by Tribune Content Agency, LLC.