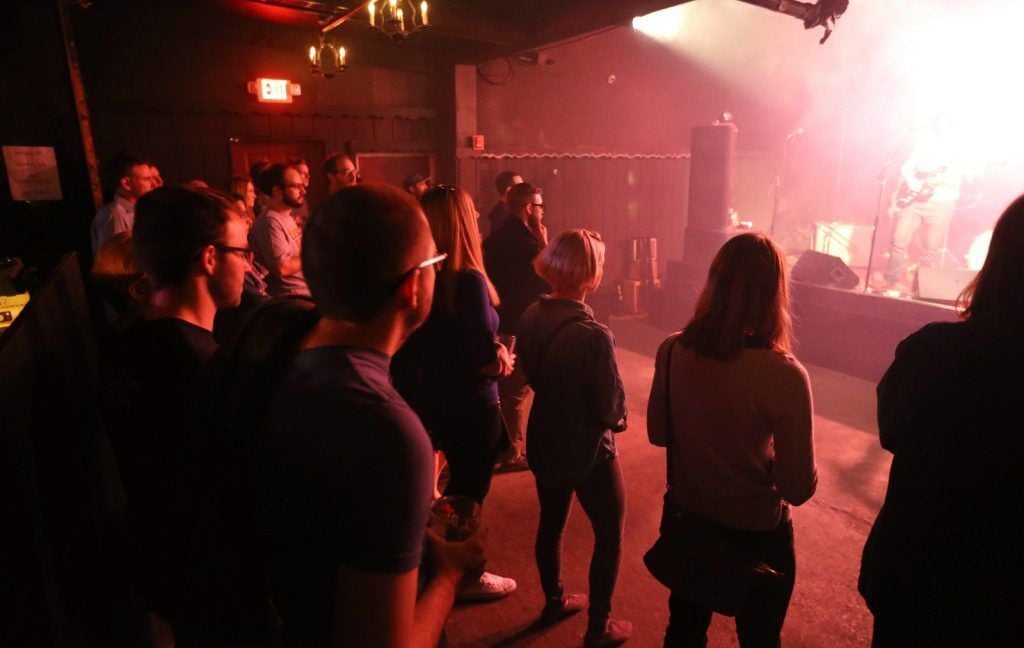 It's official. Western New York has entered phase four of New York State's reopening plan. For local music venue owners, patrons and musicians alike, this is the day they've been waiting for.
Though phase four does include "low-risk entertainment venues" in its list of approved businesses, some of the strictures announced were more severe than many anticipated. Chief among those is an attendance limit set at 25% of a venue's regular capacity for indoor establishments, where many venues were expecting a 50% attendance cap. State guidelines dictate 33% maximum capacity for "low-risk outdoor entertainment venues."
Language in the guidelines suggests at least some of these venues could have opened a few weeks sooner, during phase three, if they already had a license through the State Liquor Authority that specifically allowed live music.  
Phase four covers much more than live music venues – museums, aquariums and historical sites are also included. The language in the guidelines is non-specific. The difference between "low-risk" and "high-risk" venues has not been made explicit. As a result, there is plenty of ambiguity to wade through.
Capacity, distancing and masks
According to state guidelines, phase four businesses must "limit the workforce and patron/visitor presence to no more than 25% of maximum occupancy, inclusive of patrons/visitors, who must only be permitted entry into the institution if they wear an acceptable face covering, provided that they are over the age of 2 and medically able to tolerate one."
This occupancy restriction is going to be tough for many venues to accommodate. Take a club like Mohawk Place, which is a central hub of both local and national indie, alternative and hardcore music in our region. The club has an official maximum capacity of 237 occupants. Under the new guidelines, Mohawk Place would be able to allow 60 people through the door. But here's the catch – that number includes staff, any vendors and even the members of the band and their entourage.
Still, Mohawk Place plans to embrace the reopening.
"We'll likely be doing mostly local shows for the next few months," said Marty Boratin, who handles booking for the club. "With rare exceptions, local shows generally don't pack the place to capacity. Also, the majority of the touring acts that we get in are generally the up-and-comers, where 100 people is viewed as a good crowd. We'll likely have 6-foot markings on the floor, much like local stores. We'll likely have extra security, to remind people of social distancing guidelines."
Area musicians express mixed feelings about the return of the live music environment that has been a major component in their lives.
The guidelines mandate that reopening clubs must "ensure a distance of at least 6 feet is maintained among individuals (both patrons/visitors and employees) at all times, with the exception of groups visiting the institution from the same household, unless safety or the core activity requires a shorter distance, in which case individuals must wear acceptable face coverings."
For venues with tables, ensuring proper distancing will be easier. For venues where standing is the norm – Mohawk Place, Nietzsche's and Rec Room, for example – venue staff will have to mark areas on the floor or otherwise demarcating and enforcing safely distanced spaces.
State guidelines require that venues' "employees wear face coverings any time they interact with patrons/visitors (e.g. ticket sales) and that all individuals, including employees and patrons/visitors, wear face coverings any time they're within 6 feet of another person."
Patrons will also be required to wear a mask when purchasing tickets, entering the venue or interacting with employees – getting a drink at the bar, for example.
'A mess of ambiguity'
Though they'd initially planned to reopen solely as a restaurant, sans live music, Jason Hall of the Sportsmen's Tavern said that once "the highest government agency that we answer to told us we could be open, we looked into it and decided that we could do it."
"This all started on the Monday prior to phase three opening," Hall said. "We sat down as a family and decided that we were going to open without our stage. No music, just beer and chicken wings. We planned to stick it out until phase four. The next day, I received an email from the New York State Restaurant & Tavern Association, that drew my attention to the FAQ on the State Liquor Authority website.
"I followed up on it and then asked our attorney to look into it. He reached out to the SLA, and on that Wednesday, we received a note back from them that said, 'If your method of operation prior to Covid-19 was live music, and your liquor license designates you as a live music venue, you can open, following the state guidelines on social distancing, etc.' In our business, the SLA is judge, jury and executioner, in everything we do. They are the law of the land, as far as we're concerned. They told us, very clearly and in writing, that we could operate."
The Sportsmen's Tavern opened and held reduced capacity shows that Hall says followed the state guidelines "very strictly and very seriously."
Hall spoke to Jeremy Hoyle of the Tralf Music Hall and told him the story.
"I was trying to put together a three-show run at the Tralf in July," Hoyle said. "We had tickets set to go on sale. I spoke with the county executive's office (June 25) and they said shows cannot happen presently. I was told to wait ... for phase four guidelines. The whole damn thing is a mess of ambiguity."
Less ambiguous was Hoyle's reaction to those guidelines when they were finally announced.
"Health and safety of our staff and patrons is our ultimate concern," he said. "We just want to do the right thing. We were considering attempting to do some shows at 50% capacity, mostly just to boost cultural morale. We would've taken a financial spanking for it. But 25% capacity is absolutely prohibitive. So we'll wait."
Too soon?
For some music venues owners and promoters, phase four brings more questions than answers.
"If attendees are required to wear a mask and stay 6 feet apart, that's going to deter a lot of them from having a good time and wanting to come out," said Greg Burt of For the Music Promotions, which books shows at Stamps the Bar in Tonawanda and Mohawk Place, among other venues.
"When small rock/metal/hip hop venues start opening again under restrictions, will the crowd be respectful? We've already seen incidents at stores when a customer is refused service for not wearing a mask. When alcohol and expensive tickets that were already paid for are involved, it sounds like more incidents are inevitable. What will security be able to do with social distancing in place?"
Donny Kutzbach of the Town Ballroom isn't on the fence. His position is clear.
"We're not opening," he texted. "We can't reasonably operate at 25% capacity because our business model is not sustainable at those numbers.
"Frankly, it's not safe to open yet anyway. Not with what we do and how shows in a confined indoor space work. We cannot risk people's health, and we won't be responsible for furthering the spread of the virus at this critical time."