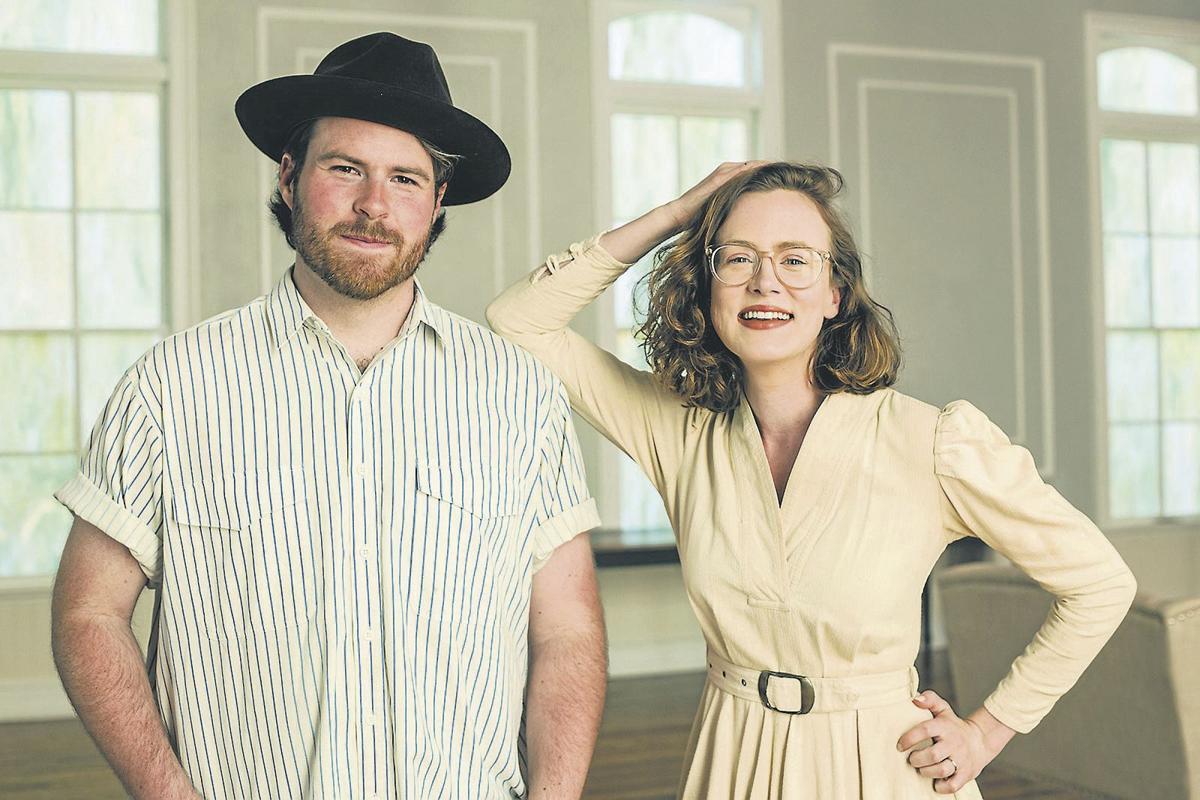 Matrimony, happenstance and local tales - or tails - defines how the Chatham Rabbits came to be.
The husband-and-wife folk outfit left their day jobs in June 2018 to start life as touring musicians. Since then, they have played a sold-out record-release show in Carrboro at Cat's Cradle.
Now the duo tied together by wedding bells will perform at the Iredell Arts Council Sept. 12 as part of the 2019 Concert Series.
As for the band's namesake, Sarah Osborne McCombie, who plays banjo and sings, explained how four years ago she and her husband Austin moved to the small mill town of Bynum, North Carolina. Nestled in northern Chatham County, they learned of the rabbit that made the county famous.
"For whatever reason, we're still not super clear on this, there was this really strong population of very large rabbits in Chatham County," McCombie said. "And people would come from all over to hunt them and sell them."
This eventually turned into naming everything from a softball team to a Girl Scout troop and even a local string band after the hare. McCombie did a three-year stint playing banjo with the South Carolina Broadcasters, and continued to make music with her husband, who plays guitar and fiddle. The two of them were told by neighbors of an old string band in the area called the Chatham Rabbits, and even found out the band's guitar player had lived in the house they'd bought in Bynum.
"There were just all of these crazy connections to the Chatham Rabbits name," she said. "So it just kind of chose us."
So after talking it over with some friends from the band Mandolin Orange, and getting plenty of motivation from Chapel Hill-based producer Jerry Brown, they hit the road in a van and started booking shows. McCombie said part of the past year has been finding the balance between business, music making and marriage.
"It's been a challenge for us because now Austin and I spend 24/7 with each other," she said. "That's great because we got along really well and we have a lot of fun together, but we've had to really coach ourselves and teach ourselves to turn off the Chatham Rabbits discussion."
That ranges from picking a different topic of conversation, playing music for the sake of music or going to a concert where they're not already on the bill.
But she also said she feels grateful and privileged to have met many amazing people and see audiences connect with their music for the last year.
"It's been satisfying and gratifying to do what doesn't feel like a job," she said. "I mean it is definitely work. There's been a lot of blood, sweat and tears that's gone into this. And we've definitely worked our little rabbit butts off."
And that's come with a fair amount of growth. McCombie said the band is now focusing on writing all original music, and mixing up the live instrumentation with a mandolin player, bassist and occasional drummer. Austin also plugs in an electric guitar from time to time, but making sure the song is being told properly is what drives the Chatham Rabbits.
"I think that we're really conscientious to make sure that whatever instrumentation or composition, however that plays out, we want it to highlight the story and the lyrics of a song," McCombie said. "Not takeaway, or distract, from meat of the song or the core of the lyrics."
Recognizing how well they've been served by luck doesn't escape the Chatham Rabbits either. McCombie's career with the South Carolina Broadcasters started because she got picked out of a crowd to sing a song with them at a barbecue restaurant in Kernersville. Not to mention the whole story of boy meets girl, girl plays banjo and boy plays guitar. McCombie said with a laugh it could almost be a sitcom.
"For us, I would say it's been 75-80% chance and luck, and the rest is actual talent and hard work," she said. "The talent part is even chance because I learned to play banjo because I was sitting in the audience at Prissy Polly's BBQ one day. It is so crazy."
Stay up-to-date on what's happening
Receive the latest in local entertainment news in your inbox weekly!