Trim, toned and dressed in no-nonsense black and gray, Bruce Springsteen stepped onto the stage of the Greensboro Coliseum at 7:43 p.m. Saturday, his famous beat-up Telecaster guitar slung behind his back, twirled his right hand in the air a few times and launched into "No Surrender," kicking off a nearly three-hour concert of sing-a-longs, fist pumps and nonstop groove-busting that surely had thousands of Baby Boomers and Gen X-ers reaching for their Ibuprofen after the show.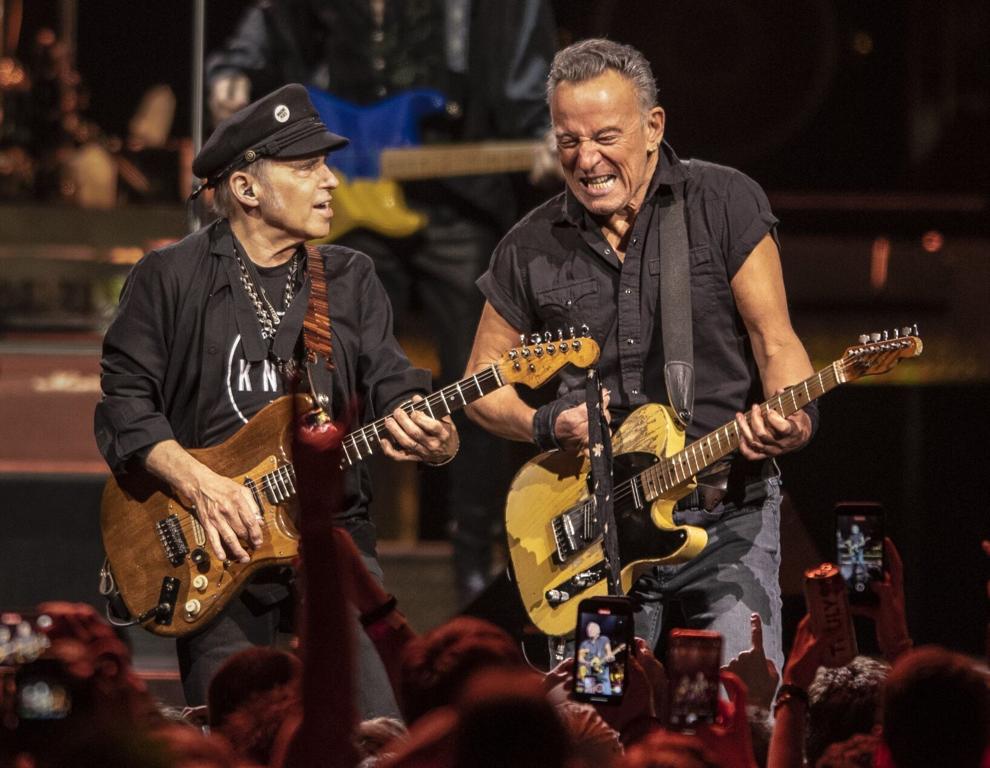 In an arena that has been host to so much basketball over the last three weeks, Springsteen's show was a rim-rattling slam dunk, proving that at 73, Springsteen remains an age-defying, transcendent performer, who has apparently decided to flip the bird to Father Time.
It was the kind of soul-lifting concert that twin sisters Bridget Raber and Margaret Casey-Kruger of Myrtle Beach, S.C., had hoped for.
The twins were among the thousands of fans who gathered in the parking lot on a sun-soaked afternoon, priming themselves for the show.
Self-described "New Jersey girls," the sisters were celebrating their 60th birthday. Last week, a friend, unable to attend the show, asked them if they wanted his second-row tickets for free.
"Are you freakin' kidding me?" Raber asked.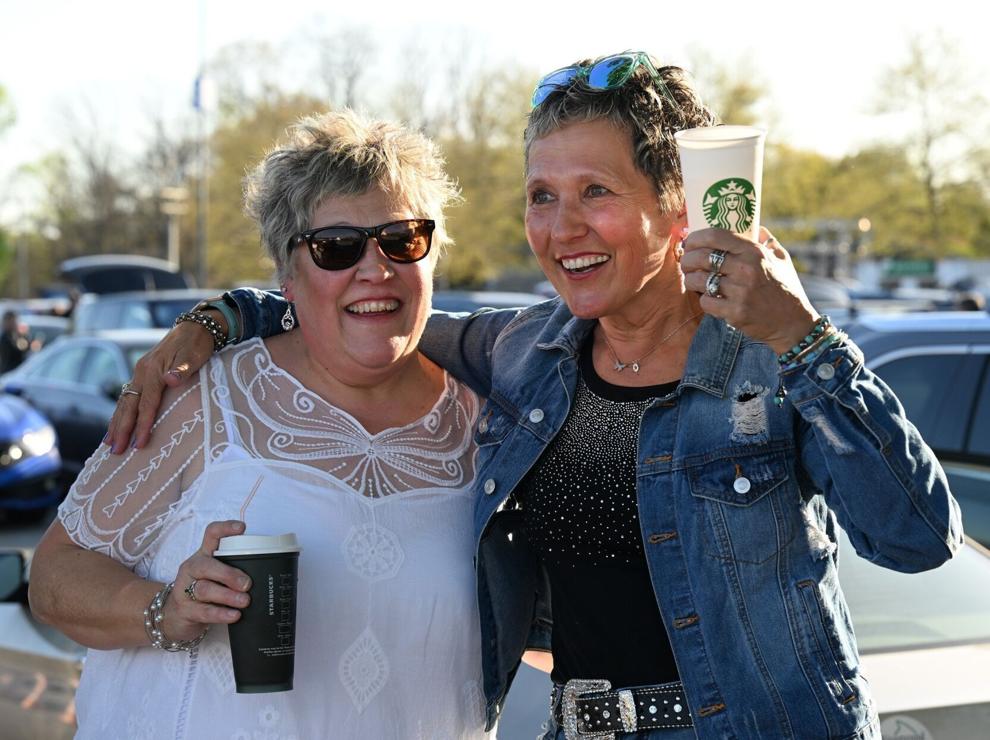 Raber and Casey-Kruger grew up in central New Jersey and feel a kinship with Springsteen, whose working-class Jersey roots are central to his identity.
"We grew up with him," Casey-Kruger said.
Springsteen's music, they said, reflects the lives of waitresses, factory workers and working people trying to get by.
"It's real life," Raber said. "It's America."
Her sister chimed in: "It's not divisive. It's, 'Let's celebrate our journey.'"
The convivial atmosphere that Springsteen creates in his shows was evident all over the parking lot on Saturday, with folks blasting his music, playing cornhole and sipping on drinks.
On one end of the parking lot, another pair of fans from Jersey — Barbara Frycz and her daughter, Courtney, 23, — sat under a shade tree before the show. Courtney was dressed in one of her mom's vintage Springsteen concert T-shirts.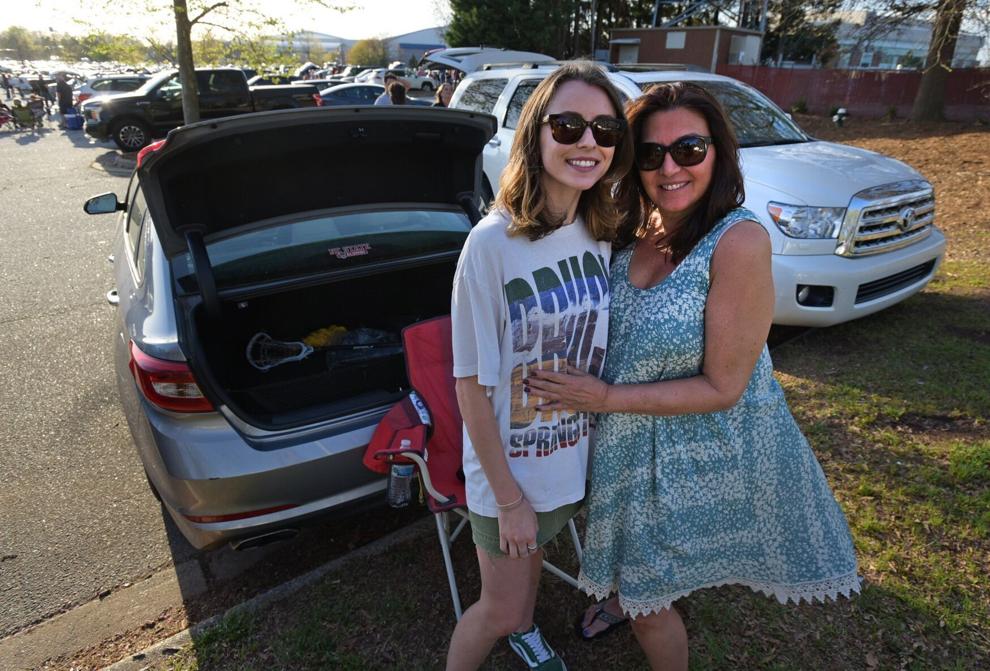 "I grew up on Bruce Springsteen," said Courtney, who now lives in Raleigh. Saturday's Springsteen was her first.
Barbara saw her first Springsteen show in Princeton, N.J., in 1978, when she was 15. Taking her daughter to see a Springsteen show is a rite of passage, she said.
Greensboro has been a regular stop on Springsteen tours for years, but this was his first since 2012. He was last scheduled to play the coliseum in 2016 but canceled the show in protest of what has been called the "Bathroom Bill," which prohibited transgender people from using restrooms aligned with their identity.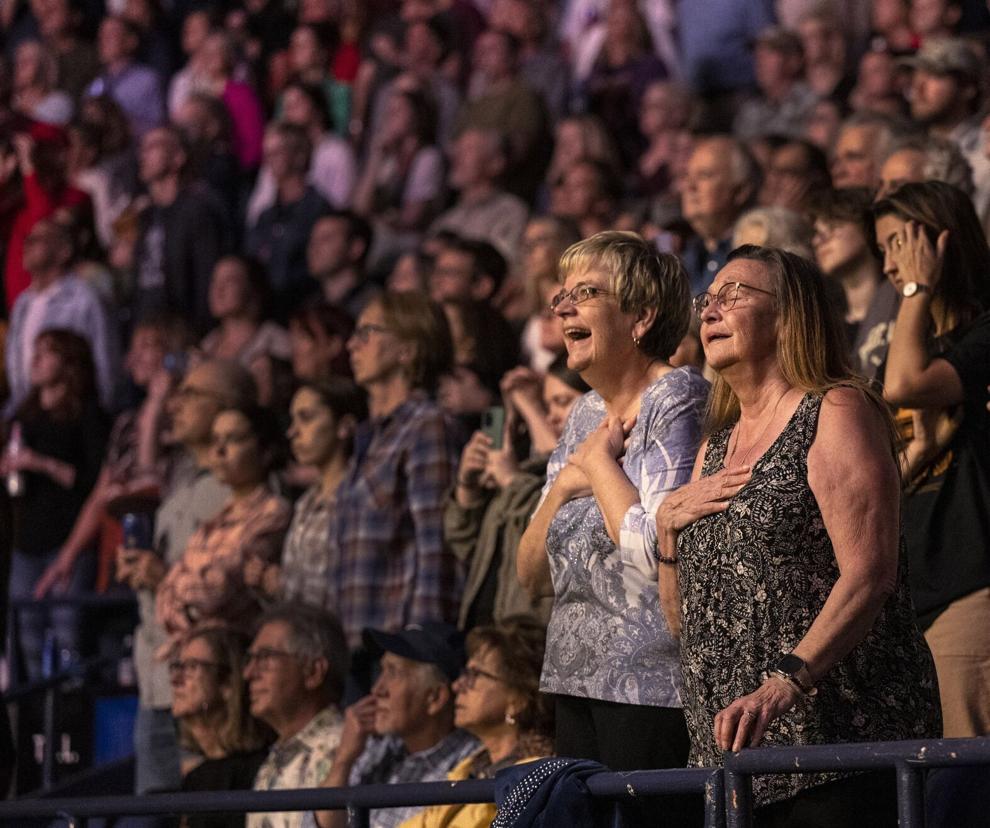 Saturday's show brought people together from around the Southeast and points beyond.
Sipping a white Russian from a Yeti tumbler before the show, Mike Cleary of Apex said he first saw Springsteen in 1985. He has seen him several times since and referred to him as his "soulful older brother."
"It's a rock-and-roll gospel show. It's like a religious experience," he said. "He brings it and there's nothing like a Bruce Springsteen show."
His wife Maureen nodded: "Nothing."
Springsteen's setlist covered the breadth of recording career including the big hits — "Dancing in the Dark" and "Glory Days" — the satisfying fan favorites — "The Promised Land," "Badlands" and "Backstreets" to name a few — and expected anthems — "The Rising" and "Born to Run."
He also played songs from his newer albums, including a soulful reading of the Commodores' 1985 hit, "Nightshift." The song is among several R&B hits that Springsteen covered in his latest album, "Only the Strong Survive."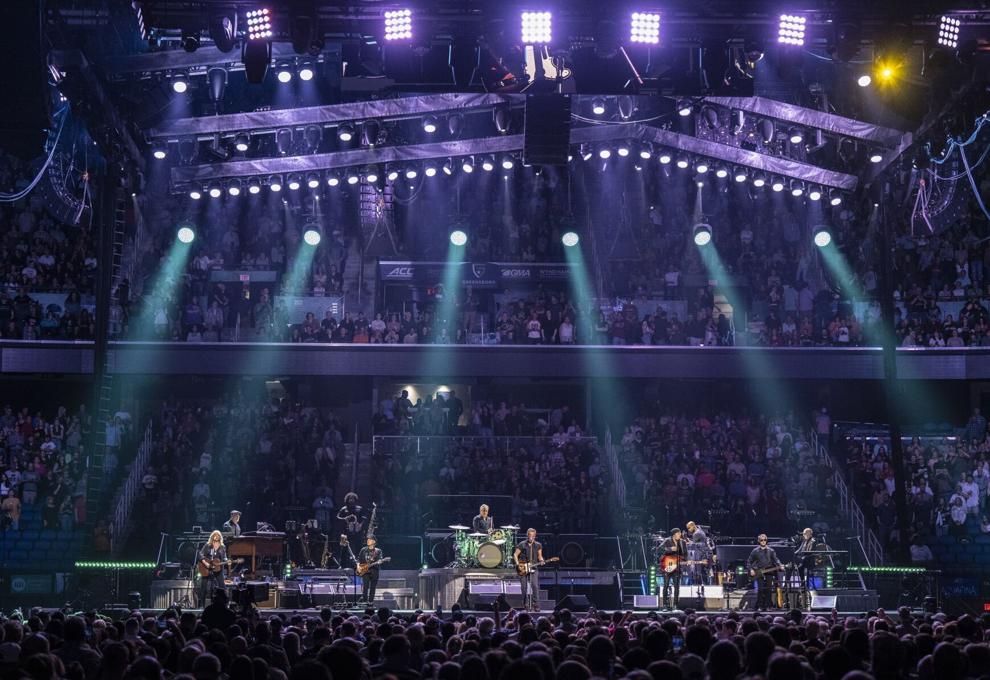 The eight-member E Street Band, a four-man horn section and four backup singers added the punch while Springsteen strutted the stage like a tent-revival preacher.
Though this version of Springsteen doesn't slide across the stage on his knees, jump off drum risers or bend backward while clinging to the mic stand, he regularly strolled one runway that spanned the length of the stage and another shorter one that jutted into the front of the stage where he slapped hands with fans and tossed a few harmonicas into the crowd. A flip of his hand could whip a whole section of the coliseum into a frenzy.
His 26-song set covered themes of friendship, community and love, threads that run through much of his music. The lights came on during "Born to Run" and stayed on for the next five songs, so that everyone could see up close the joy of being together in that moment.
Rich Jones of Charlotte walked back to his car raving about the show.
"That was classic Bruce," he said. "That at 73 he can still do this, is amazing."
336-727-7420
@lisaodonnellWSJ